Genrikh Kasparyan is considered to have been one of the greatest composers of chess endgame studies. Outside Armenia, he is better known by the Russian version of his name Genrikh Moiseyevich Kasparyan or Kasparian.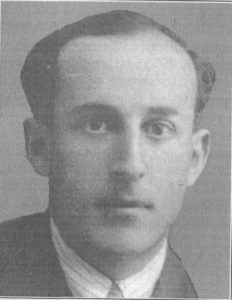 Kasparyan became a national master in 1936 and an international master in 1950. He was awarded the titles of International Judge of Chess Compositions in 1956 and International Grandmaster of Chess Composition in 1972, the first composer to receive this title from FIDE (Harkola 2007).
Kasparyan was also an active chess player, winning the Armenian championship ten times (from 1934 to 1956, including two ties with future World Champion Tigran Petrosian) and the Tiflis championship three times (1931, 1937, 1945). He reached the USSR Championship finals four times (1931, 1937, 1947, 1952), but never finished higher than tenth place.
No matter how good his playing style was, he was better known for his compositions. He started with chess problems, mainly three-movers, but soon discovered that his best field was in endgame studies. He wrote several books and collections and composed about 600 studies (I must say that I have not even read that many!), many on the theme of domination, winning 57 first prizes.
The following puzzle is one of my favorite puzzles. This puzzle is a mate in 7 puzzle with best defense from black. One has to be very precise to reach the solution. Oh and I feel sorry for those who do not chess as they will never realize how beautiful this is!
And I must repeat myself, solve it yourself. I remember the first time I saw this puzzle, I was just too lazy and tired to calculate a mate in 7 from both sides. Thinking it was an average puzzle and me being stupid at the time, I looked at the solution and was dumbfounded. This is truly a masterpiece. Give it your best. If it takes 1 min, 1 hour or 1 day, just do it. Don't look at the solution unless you need to, you'll regret it. DON'T be me. The position is given down below and after that the solution will be presented.
I really hope you guys solved it. This is a puzzle for intermediate and advanced players. If you are still a beginner, remember this position and wait for it… close this article. You should not see the solution now because this is a pleasure, a feeling and a treasure you can experience only once in your lifetime. For the intermediate and advanced players, you should use a different approach while reading the solution. Suppose you have calculated the first three moves right but after that it's wrong. Instead of reading ahead, stop and discard all thoughts in your mind and start solving from that position. I will not be placing the game and notation side-by-side so you can use your arrow keys to browse through the moves and stop when necessary.
The puzzle is a beauty, but let's not forget the mastermind who allowed us to experience this beauty. Imagine the effort and imagination that must have gone into creating such a puzzle and that too in the age where there was no engines at all. Breathtaking is the word I'll use here.
Bonus Video: Agadmator has a huge chess following and if you still don't understand by my teaching style, then you can watch his video here. In Agadmator's video, the solution will be presented at 10:30
Now go share this with your friends in the bar or the library as said by Agadmator
Happy Learning,
Yash Mehta