Hello Everyone,
As we all know one of the most quintessential aspects of chess is psychology. This underrated factor can change the entire game. Due to it's command and influence on chess, I am starting a new series called "The power of chess psychology". In this series, we'll be analyzing historical tidbits and we'll assess the extent to which psychology plays a role in chess.
What better example than the 1959 Candidates Tournaments.
Allow me to give you some context first. The 1959 Candidates Tournament was hosted by three cities in Yugoslavia. The first 14 rounds were played in Bled, rounds 15-21 in Zagreb, and rounds 22-28 in Belgrade. This event would select the next challenger to world champion Mikhail Botvinnik, who had just recaptured his title in the Smyslov – Botvinnik World Championship Rematch (1958). The contenders in this tournament was Mikhail Tal, Svetozar Gligorić, Pal Benko, Tigran Petrosian, Friðrik Ólafsson and Bobby Fischer all of which qualified from the Portoroz Interzonal (1958).
Here are some beautiful vintage pictures which will help you get an idea about the environment at that time.
Ah! The power of historical photos truly amazes me.
The main reason I wanted to start off this series with the 1959 Candidates Tournaments has a very logical explanation. Let's look at things now from an analytical point of view and truly find out the mystical power of psychology. I request you to take a quick glance at the final standings of the tournament :-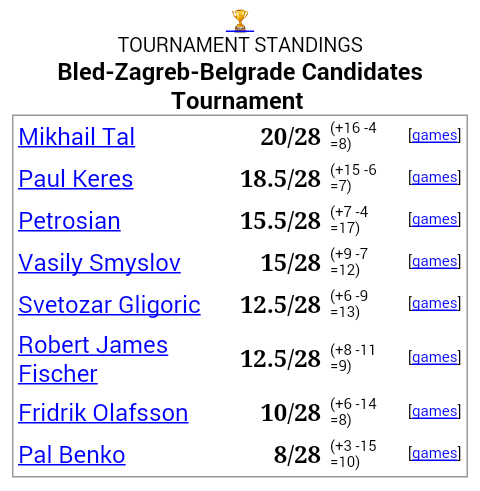 We can notice Mikhail Tal being a whole 1.5 points ahead of Paul Keres which was an impressive feat considering the formidable players in this tournament. Although, Mikhail Tal won through his daring ,combinatorial style and his creative genius. We can also attribute this to his self-confidence and assertion over his opponent. To make this claim more convincing, let's take a look at the perspective of few people.
Quoting Harry Golombek who mentioned that
"It is an impressive sight to see him (Tal) get up after he has made what he obviously thinks is a winning move and pace around the table like a man-eating tiger."
He won the brilliancy prize by crushing the ex-world champion with a series of sacrifices he later described as "pure improvisation" ( Tal vs Smyslov 1959). In Round 10, (Tal vs Keres) Keres was enjoying the material advantage that Tal was giving him. Taking a first glance, Tal's position would be unfavourable.
"Most onlookers thought (Tal) might well have resigned ten moves earlier. Though Tal finished off the cycle with three straight wins, it was Keres who led by a half point when the players set off for Zagreb. This is mostly due to Tal's stubbornness who will not resign but will fight till the last breath."
Paul Benko himself showed up wearing dark sunglasses because he was "fearing- or pretending to fear the hypnotic power of Tal's eyes".
Some skeptics may just dismiss this article as 'false' or just 'simply wrong' on the grounds that Tal was in his prime and just won the 1960 Championship match which proves that it was his skills speaking.
I may as well reveal to you that only a few days before the start of the tournament Mikhail Tal had to go to a hospital to get his appendix removed.
Yuri Averbakh was "horrified" when he met him:
"He looked pale and haggard. Only his eyes were just as piercing, burning with an unquenchable fire
Tal himself said that,
"During a game I did not feel inclined to stroll about, and I was unable to walk quickly. I was able to devote myself to the battle"
Then how did Tal have a relatively bad start into this tournament. In the first three rounds he only scored one point. On the contrary, Tal was more concentrated than ever. He wanted to strip the opponent of his prestige. He was the same dominant Tal who was in his prime. It all boils down to the theme of this article: psychology.
Tal was not just using psychology to his favor and not conveying his regular "I am better than you" expression. His opponents was just not convinced that Tal was better than them. There were fighting heavily and displaying great confidence as the chance to challenge Botvinnik for the World Championship Title was on the line. Once Tal became the tiger he was, everything became all right.
What's even more impressive is that in this 1959 Candidates Tournament, Tal & Fischer played one game where Tal obviously won. I might do this injustice by including it in this article but for the sake of curiosity, I'll include this humourous and memorable anecdote here:-
When Fischer and Tal were playing, Tal at a particular position said that 22. Rae1 was the best move. Fischer wrote it down and pushed the scoresheet towards Tal, who grinned. Fischer then played 22. Qc6+ instead. After the game, Tal asked Fischer why he changed his mind and the American said, "Well, you laughed when I wrote it down!". This demonstrates the power of Tal's smile.
This is what the common layperson here's and just passes on this historical gem. But since you're on this blog, I'll add another perspective which I came across by reading Tal's book. Here is an excerpt from his autobiography:
" Fischer first wrote down QR-K1, without a doubt the strongest move, and he wrote it not in English but in European, almost Russian! And he not very deftly pushed the scoresheet towards me. "He's asking for an endorsement!" I thought to myself. But how to react? To frown was impossible, and if I smiled he would suspect … 'trickery.' So I did the natural thing, I got up and strolled around the stage. I met Petrosian, made some joke to him, and he replied. But the 15 year old Fischer, who was essentially still only a large child, sat with a confused expression on his face, looking first at his second, and then at me. He then wrote down another move, Q-QB6+…" (And went on to lose.) "After the game, when I asked Fischer why he hadn't played QR-K1, he replied, "Well, you laughed when I wrote it down."
However, I would like to end this blog with an ironical quote,
Happy Learning,
Yash Mehta