2020 has official started but let's take a glimpse of the chess world in 2019. Today's article will be short and sweet and will be covering the biggest rating gains of 2019.
Before starting, we need to keep a general rule of thumb in mind. The higher the rating, the lower the rate of its change. Consequently, the lower the rate of the rating change, the more difficult to improve one's raring. The more difficult to improve one's rating, the more significant every gain. With this in mind, let's start with GMs.
Evgeny Shtembuliak born in 1999 (pictured above) made the biggest progress among grandmasters – over the period from March 2019 (when he was awarded his GM title) to January 2020 he improved his rating by 109 points and reached the 2625 mark.
His gain is only 4 points bigger than one by a chess wunderkind from Iran Alireza Firouzja who made a huge jump from 2618 to 2723 and is ranked second on this list. Next is a young Chilean (born in 1996) Cristobal Henriquez Villagra who rounds out the top-3 in this category after hitting the mark 2603 with a 99-point increment.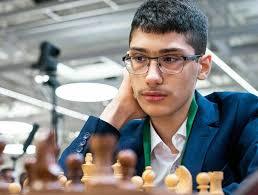 Other interesting things to note is that Aleksandra Goryachkina(2578) is the only lady in the top-20 GMs rating increase list and she boosted her rating by 60 points.
It is also nice to see that child prodigy, Rameshbabu praggnanandhaa ranks thirteen on this list with a rating increase of 63 points which is phenomenal considering that he is 14 years old as of 2nd January 2020.
The biggest gains are registered among IMs, which is hardly surprising given their lower rating comparing to GMs. The top spot in this nomination belongs to Mahfoud Oussedik from Algeria who picked 118 points and for the first in his career broke the 2400 barrier (2423). Jonas Buhl Bjerre from Denmark (born in 2004) really stands out in this list as he made an impressive leap from 2422 to 2535, passing the GM mark (2500).
Also, I would like to mention https://www.chessratings.top/ . This site allows you to calculate difference between two players FIDE score, FIDE rating increase, increase after a player participated in a specific tournament, ratings in particular categories (female only) etc. It also gives you additional information about a player's FIDE score and about his profile.
Since this is a document that involves hard facts, I have taken snippets from FIDE's Official Article regarding the topic which is https://www.fide.com/news/456. My blog article provides a summarized version for GM's & IM's and is a medium for the chess community to get in touch with the world.
And that was the end of today's article. Hope you enjoyed it.
Yash Mehta